Info / Admissions
Warsaw Montessori High School – The Center for Study and Work
Motto
"But above all it is the education of adolescents that is important, because adolescence is the time when the child enters on the state of manhood and becomes a member of society." hi from Childhood to Adolescence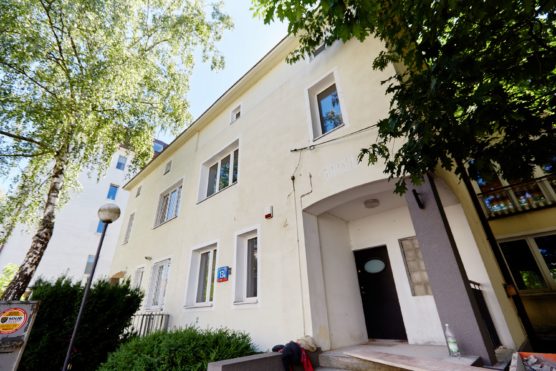 Our Anecdote
Warsaw Montessori High School was first meant to be opened for the first group of our Montessori Middle School graduates (early adolescents) in September 2019. It was promised to our early adolescence students and their parents before WMMS was founded in February 2016. Once we opened our Early Adolescent Program at Tatrzańska (WMMS), two of our elementary graduates came back once we have opened our Early Adolescent Program at Tatrzańska (WMMS) for their third final year at Middle School and asked to open a High School Programme for them – anecdote by our student who has started with us when he was 3 years of age – Jan Opawski
"When after a two-year break I came back to study at WMMS, I was absolutely delighted – with the atmosphere, the teaching staff and other students. It was and still is an extraordinary place emphasizing sustainable development and individual approach to the student which I missed so much in other schools. Naturally, as a third grade junior high school student (middle school WMMS), I was starting to choose a high school. With some regret I thought about returning to the benches set in rows, reproductive homework assignments and tests. My thinking was more or less like that: Repetitio est mater studiorum. Repeating, repeating, repeating – information, activities. But where is the place for creativity? For autonomy? For growing up? All those questions started coming even more often to my head. They sounded louder and more persistent as the exams and the end of the school year was coming nearer and nearer. They seemed to me a real apocalypse. Suddenly, I had a perfect idea which was unfortunately impossible to implement. That is at least how it seemed to me at that time. Mission impossible. However, fortune favours the brave. Or sink or swim. Or you live only once. So I went to Mr. Szymon and Mrs. Małgosia to ask if I could stay there to continue my education at WMMS in any way. It was my home, I did not want to leave it yet. I was very surprised when it turned out that it did not have to be the end of my adventure. That I can still stay there. There's even more! I will co-create a new school – my own high school. It was a very uplifting feeling – to be not only part of this great community, but also one of its contributors. Thanks to Mrs. Małgosia and Mr. Szymon I will create a school of my dreams. Or I will create as much of it as I can. After all, I will not do it alone but together with others in a way a real family is created. A family of my dreams. Are sixteen-year-old dreams perfect? They surely are for sixteen-year-olds."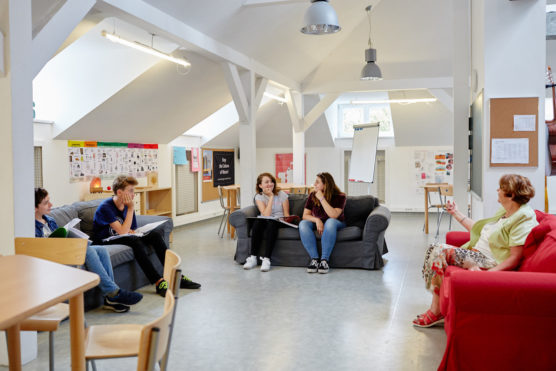 In honor of Dr. Montessori, and the legact of learning that she pioneered, we have called our next step of educational environment for our older adolescents – Warsaw Montessori High School – The Center for Study and Work.
It is the place where Adolescent Montessori Education is understood as:
– preparation for real life
– a transition from living in a family to live in a society.
Warsaw Montessori High School is:
– the school of experience in the elements of social life
– the environment of freedom and responsibility
– a center for study and work
– a place where older adolescents experience economic independence both communally and individually
– a place providing freedom of: choice, voice and activity.
Role of and adults – Montessori guides – specialists/mentors/program coordinators:
– recognizing the two needs of adolescents (1. protection during the time of the difficult physical transition
   2. understanding of the society which he is about to enter to play his part as a man)
– mentoring
– working side by side
– loving and having constant faith in the older adolescents who believe that they have power to change the world to be a better place.
International Baccalaureate (IB)
Montessori philosophy and the International Baccalaureate (IB) program aim to create curious, independent, reflective individuals with a focus on noble work, and a greater world-view.
We need only look at the adjectives the IB program advocates in their learner profile. These same principles were the goals of Maria Montessori in educating children all over the world and have been the evidence of the power of a Montessori education.
Just like Montessori's philosophy of the "Erdkinder", the International Baccalaureate stresses that noble work must be a goal of educating the adolescent as well as the pursuit of more typical academic endeavors.
The Diploma Program does not dictate the method of instruction, allowing the pursuit of the "Erdkinder" philosophy side-by-side with an IB diploma.
Just as Montessori students do since their formative years, IB students are able to study the topics of their choosing, with a freedom of choice and activity. As Montessori long knew, individuals learn in different ways and at different speeds, and the IB program also allows students to learn at their own pace.
The student-centered approaches of both the International Baccalaureate program and a Montessori education are an ideal marriage in a modern world where we seek validation of our accomplishments.
Admissions
If you are interested in obtaining further information about the Montessori school and method, we invite you to visit our facility, after making an appointment with the person responsible for recruitment:
Małgosia Tarnowska – AMI Montessori Guide
T: +48 604 137 826, or send and e-mail to:malgosia@warsawmontessori.edu.pl
Niepubliczne Liceum  Ogólnokształcące Warsaw Montessori Hign School.
We also invite you to read the articles about our Montessori schools and philosophy on the Warsaw Montessori Family website.