Open Days in WMHS!
Everyone interested in taking part in recruitment to Warsaw Montessori High School for the 2023/2024 school year is invited to participate in our Open Days, which will take place on the following dates:
– January 21, (Saturday) at 10.00 am
– March 2 (Thursday) at 5 pm
If you are interested in taking part in Open Days, please send us an email on highschool@warsawmontessori.edu.pl and declare your willingness to participate in these events.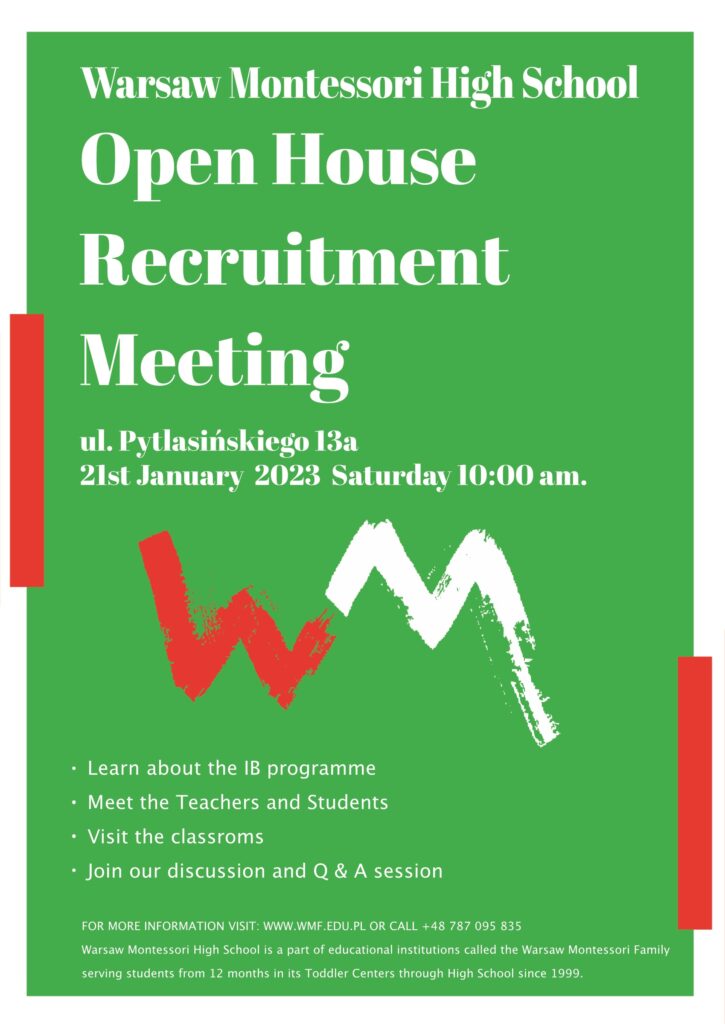 Warsaw Montessori High School offers IB Diploma Program since 2019.
The Diploma Program (IBDP) is highly regarded as a degree by the top universities all over the world.
We offer at WMHS the following subjects in six academic areas (commonly called the groups)
Group 1 – Language A – Polish literature or a self-taught native language; Language A – Language and Literature – English
Group 2 – Language Acquisition: English B HL, German (SL, HL), French (HL SL), and Spanish (HL, SL)
Group 3 – Individuals and Societies: History, Geography, Psychology, and Economics
Group 4 – Sciences: Biology, Chemistry, and Physics
Group 5 – Mathematics: Analyses and Approaches (AA), Applications and Interpretation (AI)
Group 6 – The Arts: Theater and Visual Arts
Students study six subjects concurrently (three on HL and three on SL) consisting of the following:
Two languages, one subject from Individuals and Societies, one from Sciences, one from Mathematics and one from the Arts or from another subject area of one of the other groups. All subjects (except English B) are offered on high level (HL) and standard level (SL).